55+ Years Of Experience & Expertise
Since 1965 Gearon has provided civil construction and earth moving services on a wide range of construction and infrastructure project across Melbourne and Victoria. With a reputation for delivering successful outcomes for our clients, Gearon is well resourced to deliver works for a range of clients throughout a number of industries.
Our infrastructure civil works include railways, water authorities and other government projects. We have performed bulk earthworks for industrial and commercial developments, wetland and dam construction and road and freeway construction. We also provide asphalt and concrete pavement works, demolition works, landscaping, and installation of major services – drainage, sewer, water, communications.
Our previous projects demonstrate the wealth of experience that Gearon has in a number of industries and sectors. View our projects from the sector icons below.
Gearon is certified to ISO AS4801, ISO9001 & ISO14001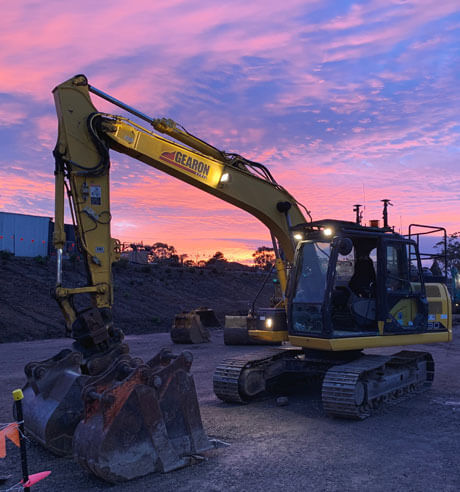 We foster a culture of lasting relationships, social awareness and environmental sustainability.
Our mission is to deliver quality civil construction outcomes in a collaborative and safe environment with likeminded clients and to provide opportunities for a shared prosperity and quality of life for all who work here